Dilemma - 2002
The work for the Dilemma Exhibition came about after I had been working on a project for Catalyst, a group of artists and scientists based in Portsmouth. All of Catalyst exhibitions have an art and science basis.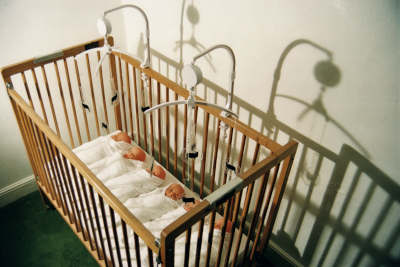 Counting Sheep, Counting Dolly's - 2000
(click for large image)
I became interested in pigs that had been genetically modified and bred, for human heart transplants. I began to question how far we would go in using other species for experiments. I questioned if it was so very different to breed pigs for bacon.
Looking at the Roslyn Institute and the experiments going on there which produced Dolly the cloned sheep, I decided to make Counting Sheep, Counting Dolly's, the clone nightmare of the 21st century.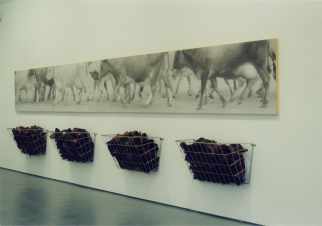 Used Up
(click for large image)
Used Up, was the largest piece put together for the Dilemma Exhibition. This work consisted of a black and white photograph enlarged to 120cm x 630cm. Under this image are four cattle feed mangers, filled with brown boots and shoes. I was inspired to make this piece while watching a herd of cows cross the road, holding up the traffic, as they ambled over to the milking sheds. It occurred to me that, we milk them, eat them, and then wear them.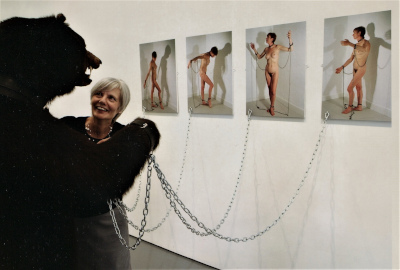 Dancing Bear, Dancing Bare - 2002
(click for large image)
The use of taxidermy, popular in the nineteenth century, provided me with a few ideas. I took an elephant's foot umbrella stand one step further and made a photomontage of a vase of a woman's foot.
I began to play with words and produced Dancing Bare-Dancing Bare, incorporating a full- size stuffed bear and images of a woman dancing bare.
Real fur, purchased from charity shops, has been used to make a vanity case. This was constructed using three layers. The outer layer a cage, the second layer fur, and the interior of the box was lined with mirrors. The viewer is then by reflection, inside the cage, inside the skin, inside the box.
Work continued on this project for three years.
'Beauty and the Beastly' (Word document) is an essay on the Dilemma work, written by Annabelle Munday, for the exhibition catalogue. Longstone Films documented the Dilemma exhibition with an exhibition tour and interview.
The Dilemma Exhibition was shown at Quay Arts, Newport, Isle of Wight. 2002 New Greenham Arts, Newbury 2002 and Havant Arts Active, Havant, Hants, 2004.
Influences:
Jana Sterbak, Vanitas Flesh Dress for an Albino Anorexic 1987
Joseph Beuys
Rebecca Horn
Damien Hirst
Janine Antoni
Sponsors
Page last updated: 06 March 2022