A Place to Pray - A Place to Play - 2005
Hot Air 2007 - 2018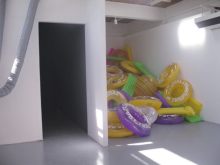 Place to Pray, Place to Play
(click for large image)
When I recommenced my studies at Winchester School of Art in 2004, I was looking to develop work relating to a specific site. I decided to use The Rope Store on Newport Quay, on the Isle of Wight. This building is part of Quay Arts and is used as a gallery. It is also The Friends Meeting House where the Quakers meet every Sunday for prayers. They often cover up the art on display, as some of the work on show may distract from prayer. I found this exciting because artwork covered create d another set of shapes and forms. I became interested in the idea of covering and concealing, hiding, revealing and exposing.
The dock is visible from the Rope Store windows, it is tidal. The water covers and exposes, altering the view from within. There are reflections of the water inside the building.
Initially I made work relating to covering and concealing. I looked at religious coverings such as shrouds, veils and habits. I began to consider making a moveable place to pray. I wanted to make something like a neolithic stone circle but made from a light "blow away" material. Perhaps something filled with air. I decided to use inflatable beach goods covered in black plastic. As the work developed, I decided to use the beach goods in their raw, brightly coloured, original state. The Place to Pray also became a Place to Play.
This work was exhibited at Winchester School of Art in 2005. In 2007 it was installed on Newport Quay as part of Quay Arts, Free Quay Exhibition. Photographs taken during the Quay installation, by me and fellow artist Tim Collard, became an exhibition called Hot Air. This was shown at Quay Arts in 2008 and at Havant Arts Active, in the same year.
In July 2011 Hot Air was displayed for the last time as part of the Open Studios, in Bembridge, Isle of Wight. The inflatables were sliced up, cut down and deflated, with some dramatic results.
Hot Air was resurrected to be part of The Charlbury Festival, Sculpture Trail in July 2019.
Influences:
Michael Gill. Inflatable Church
Christo and Jeanne Claud
Andy Warhol
Robert Smithson
Susie MacMurray
Images of inflatable WW2 tanks and gun installations, used to deceive German reconnaissance
Page last updated: 06 March 2022