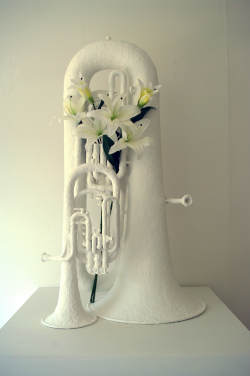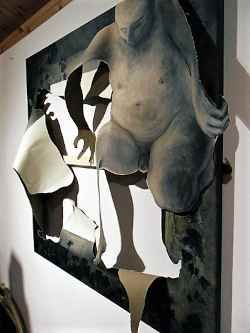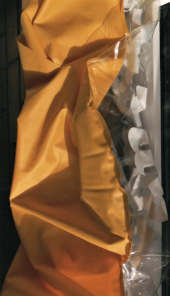 Visual Artist Using Installations and Photography
Janice Thwaites is an installation artist, who uses photography to document her work.
She has exhibited widely, exploring themes such as fertility in Angels and Mechanics, our use of animals in Dilemma and transient installations in Place to Pray and Duvet Project.
Her latest work "Silent Music" started in 2013.
Janice relocated to Oxfordshire from the Isle of Wight in 2012 where she shares studios with fellow artist George Taylor.
Janice studied at Southampton University, and is a MA Graduate from Winchester School of Art.
The work presented here is copyright of Janice Thwaites. Please contact the artist with any enquiries.
What's New
October 2014

New work for a new venue, "Silent Music" had its first airing at Oxfordshire Artweeks, in May. "Mother and Child (Reunion)" "Four Horns Crucified" "Petworth" and "Off Beat, No Rhythm" drum kit, were on show at the Thwaites - Taylor studios in Charlbury.

A performance piece, with the dancer Anabelle Davidson will be produced at the beginning of next year.
Site last updated: 22nd December 2014